RANKED! The Best SSDs Reviews 2020 – Mandatory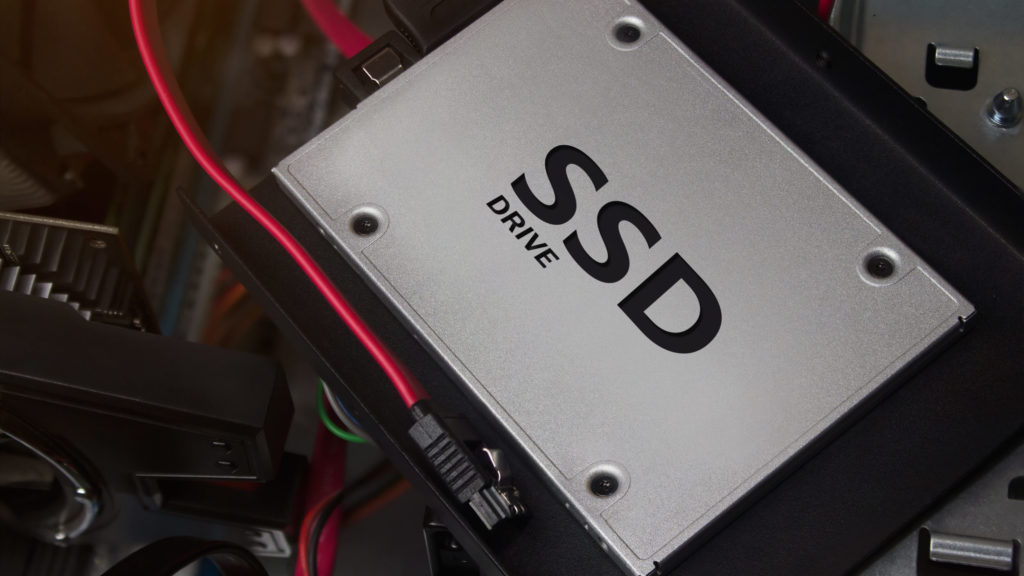 The humble HDD drive has declined significantly in popularity with the emergence of SSD drives. The Solid State Drives are both faster and more durable than their predecessors. But they're also considerably more expensive than the HDD drives. Since they're less likely to break, however, it can actually pay off to invest in an SSD drive. So which one should you, as a consumer, choose? Well, that depends on what you need it for, and whether you want an internal or external SSD. We'll show you our top 5 picks in this buying guide, so read on.
Best Choice
The WD Blue 3D NAND 1TB Internal PC SSD is our pick for Best Choice because it combines excellent performance with a very affordable price tag.
Pros:
When it comes to performance speed, this SSD delivers. The write speed of the average TLC SSD will decline with time, but this one doesn't. The 450MB/s speed is sustained throughout the data transfer, which means that both professionals and gamers can enjoy a smooth experience. Western Digital has also made this SSD available in both 2.5-inch and M.2 form factors, which makes it a flexible choice for those who enjoy assembling their own computers. Finally, it's really good value for money. Whether you opt for the 250GB, 500GB, 1TB, or 2TB version, you'll be hard-pressed to find a better deal.
Cons:
For the average user, there is not a whole lot to complain about when it comes to the WD Blue 3D. However, computer customization enthusiasts may not be so easily swayed. The design isn't that pretty, which is a shame if you want to show off the hardware collection in your computer through tempered glass illuminated by neon lights. Second, there have been complaints from said enthusiasts about the drive not being recognized by their system.
Best Portable SSD
We've chosen the Samsung T5 Portable SSD as the best SSD to bring on the go because it's very durable and the size of four credit cards stacked on top of each other.
Pros:
The T5 can read and write 540 MB/s, which is impressive even for an SSD. It can fit in the palm of your hand, your pocket, or even a small bag, which makes for easy transport. The design is also very neat, and Samsung has opted for a solid metal casing that makes the drive impact resistant. The T5 also comes with a password protection that you can switch on. If you do, then all your data will be protected with AES 256-bit hardware encryption. Even if you drop or otherwise damage the drive, the T5 comes with a whopping three-year warranty. In short, this is a very fast and compact choice for your SSD.
Cons:
There are only a few drawbacks of Samsung's T5 Portable SSD. One is that it's quite pricey compared to other SSD drives in the same category. Another downside is that it doesn't come with its own backup software, so you will have to install or invest in that separately. A final thing to remember is that even with the T5's incredibly fast writing speeds, it's only as fast as the computer to which it's connected—so factor that into your buying decision.
Best Transfer Rate
The Samsung 970 EVO SSD (MZ-V7E1T0BW) NVMe M.2 V-NAND Internal Solid State Drive is a mouthful to say, but gamers and graphic designers won't care because it works.
Pros:
If you have a need for speed, look no further than the 970 EVO. It can read at up to 3,500MB/s, which is breakneck speed compared to most SSDs. The Samsung Magician Software, which is included in the purchase, is handy for cloning files and significantly improves the system performance of both computers and gaming consoles. Power users will often push their gear to the limit, but the built-in Dynamic Thermal Guard makes sure that it never overheats and causes damage. You also don't need to worry about it breaking any time soon. Samsung includes a five-year warranty when you purchase the 970 EVO.
Cons:
Although the 970 EVO boasts a really fast reading speed, this is unfortunately not very consistent. Once the cache of the SSD has been exceeded, the speed drops quite significantly. That is a major drawback, since you'd expect 3,500MB/s but often end up with a speed closer to 600MB/s with a full cache. Also, please note that the 970 EVO comes in sizes of 2TB, 1TB, 500GB, and 250GB, but the 250GB is much slower than the rest.
Best Value SSD
The Samsung SSD 860 EVO 1TB 2.5 Inch SATA III Internal SSD offers a large internal storage capacity, along with blazing-fast transfer rates for faster read/write access.

Pros:
The hard drive is made by one of the most reputable companies. The SATA III technology has been proven to offer a significant boost in overall performance. It comes with 1TB internal storage. Available in four other storage size options to meet your needs. Uses V-NAND technology for faster transfer speeds compared to many competitor SSD drives. Writing speed of up to 520mb/s and reading speed up to 550mb/s.
Cons:
Limited compatibility – customers need to ensure their model will fit this particular drive before purchase. The price of this particular internal SSD hard drive is higher than some competitors are able to offer their customers.
Best Hybrid SSD
The Seagate FireCuda Gaming Solid State Hybrid Drive Performance SSHD is the ideal choice for gamers and professionals who want to give their laptop a significant boost.
Pros:
One of the most interesting features about the Seagate Firecuda SSHD is that it combines the functionalities of both SSD and HDD drives. This hybrid solution does two things: it keeps the price down and it boosts system performance. This hard drive is very cheap compared to similar drives like the Samsung EVO 860 EVO. And yet gamers will experience much faster loading times of maps and levels when they use it. The Seagate Firecuda SSHD doesn't use a lot of power, which makes it a green option for users who want to reduce the environmental cost. Finally, it comes with a five-year warranty.
Cons:
It has to be said that although the Seagate Firecuda SSHD is both cheap and boosts system performance, it's not the best on the market. While it may work for gamers, it's not a great option for serious multimedia creatives, since the read and write speeds are so slow. It also wouldn't make a great choice for a primary hard drive and would be best be relegated as a backup or secondary drive. The drive is definitely good for the money, but is limited.
What to Look for in SSDs
SSD drives come in many shapes and sizes, and what you should look out for depends on whether you need an internal or external hard drive. Here below we've outlined three important things to keep in mind when you're shopping around for your next SSD to complement your laptop or desktop computer.
Storage Capacity
When it comes to storage capacity, SSDs tend to be much smaller than their HDD counterparts. In other words, you'll shell out more money for less storage. A 128GB or a 250GB SSD won't get you very far because they perform slowly and you'll quickly run out of space. At 500GB, you'll probably find the sweet spot between storage and price. But since files continue to grow in size, you might want to look at the 1TB option if you can afford it. With 2TB, you'll be able to work comfortably with multimedia files of all sizes, or fit your entire game library onto the SSD. Finally, there are 4TB SSDs available if you can afford it.
Storage Memory
In addition to the storage capacity, you also need to understand what kind of storage you're after. For the average consumer, this might not be that important, but for the expert user, it can make a big difference. Single-Level Cell (SLC) drives are fast but can't hold a lot of data, which makes them more expensive in the long run. Multi-Layer Cell (MLC) are slower but can store more data, which is why they're often combined with SLC drives. Triple-Level Cell (TLC) drives are even slower than MLC drives, but can hold much more data. Finally, there's Quad-Level Cell (QLC) technology, which takes SSD drives to the next level.
Form Factor
Form factor is a fancy term for the size and shape of the SSD. It's important to consider if you want to buy an internal SSD for your laptop or desktop computer. There are three kinds of form factors to choose from. The first one is the 2.5-inch Serial ATA, also known as SATA, which is the most common type and looks like your usual laptop drive. The second one is an SSD Add-in Card (AIC), which is faster than other drives, but only works on desktop computers where they occupy the same space as your graphic card. The third type is the M.2, which is shaped liked RAM, but smaller, which makes them ideal additions to laptops.
What Are the Latest SSD Trends?
There is a lot going on in the SSD space. Although they're still quite expensive, we can expect to see more 4TB SSDs become available to consumers at an affordable price. Even the more mainstream drives are expected to drop significantly in price. They could soon cost as little as $0.10/GB. Finally, the emergence of QLC SSDs will gradually replace the TLC and MLC drives that are currently on the market.
SSD Prices
With all this talk of speed and storage versus price, what are you going to get for your money? Well, we've broken it down into three categories for you below.
Expensive
For around $200, you'll get an SSD like the Intel 660p 2TB which can read and write at 1800MB/s. It's a more expensive option, but it does give you the freedom you need to work.
Mid-Range
For around $100, you can expect the same as above, but with half the storage capacity. For example, the Crucial P1 1TB will offer you a combination of speed and affordability.
Cheap
If you're on a budget, there are still some decent SSDs for you out there. You can get the Mushkin Enhanced Source 500GB for around $60 and still enjoy the comfort of an SSD.
FAQ
Here you'll find the answers to some of the most common questions people ask about SSDs.
Q: Do SSD drives make noise?
A: If you're used to HDD drives, you'll be surprised how little noise SSDs make. They are almost completely silent. No more whirrs and clicks that annoy you while gaming or working.
Q: Can SSD drives fail?
A: SSD drives can break just like any other piece of equipment. But they're much more durable than their HDD counterparts and can resist being dropped from a table. The reason most SSDs fail is that the USB port or cable breaks.
Q: Will an SSD make gaming easier?
A: If you're used to using an HDD drive for gaming sessions, then you'll love what an SDD can do for you. Loading times will essentially be cut in half or more, so you can enjoy playing more efficiently.