RANKED! The Best PS4 Controller Reviews 2019 – Mandatory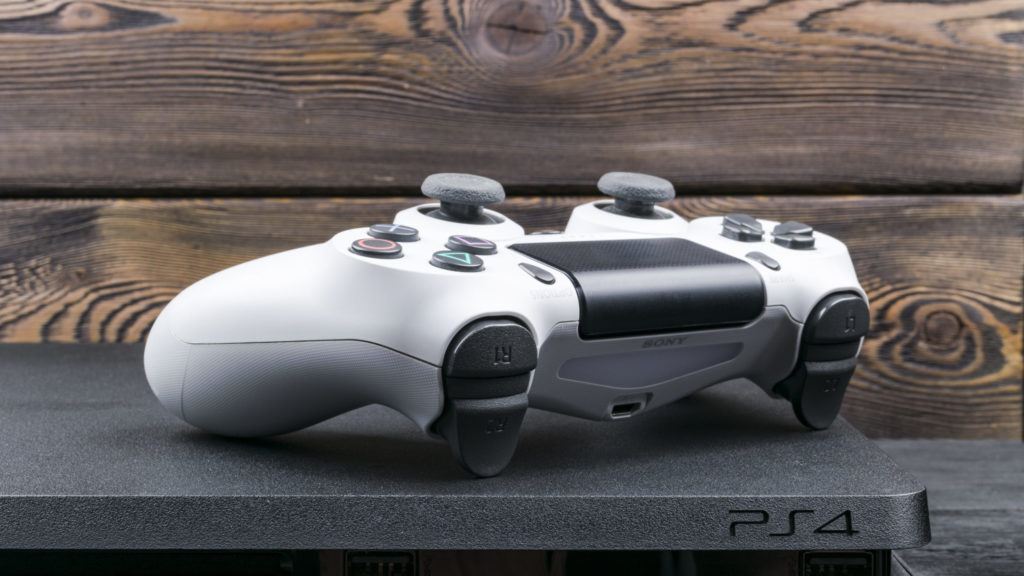 The PlayStation 4 is one of the two most popular gaming consoles in the world. They're used for many eSports tournaments, which have created a demand for a wider range of options. The original DualShock 4 controller by Sony offers a lot more than the older models, but there are also pro versions that have even more features. We've looked at the three most popular controllers and the two most popular accessories. We also explain what to consider before you buy a new PS4 controller, such as whether you want it chipped or modded.
Best Choice
The Glacier White version of the original DualShock 4 Wireless Controller for PlayStation 4 is not only the best controller so far, but it also looks incredibly cool. Check it out below.
Pros:
The DualShock 4 is the original PS4 controller released by Sony, and therefore works as you'd expect. It's a big step up from the previous iterations, and both the buttons and analog sticks now give you more control. The controller comes with two new ways for you to take in the sound from your games as there are a speaker and a headphone jack built into it. You still charge it via USB, but there are now third-party charging solutions available as well. The DualShock 4 feels light but durable, and the color-changing LED lights are a nice touch. It feels a lot more responsive than the previous models, and the battery lasts a lot longer.
Cons:
The vast majority of negative feedback from buyers is centered around fakes. If you don't buy a controller that has been officially licensed by Sony, then you might experience several downsides. Fake controllers tend to be cheaply made, with faded colors, clicky buttons, inconsistent labels, shorter battery life, delayed connectivity, and reduced responsiveness and vibration. Some buyers have also reported that they didn't receive the cable along with their purchase.
Best Control
This Jet Black version of the DualShock 4 Wireless Controller for PlayStation 4 is the older version of the original but still provides you with a whole new level of control in any game.
Pros:
Sony has put a lot of effort into the DualShock 4, especially as newer games require the player to be in more control. The analog stick, the trigger buttons, and the touchpad all contribute to an enhanced gaming experience. The Share button on the controller also adds a social element. Gamers can now record the best moments from a gaming session and then share them directly without interrupting their game. The new headphone port in the controller does the opposite. It allows for some privacy if you prefer to listen to the game audio without anyone else listening. In short, the new DualShock 4 gives you new options.
Cons:
Although the new DualShock 4 is much more responsive and versatile than previous models, it's also more fragile. Buyers have complained that dropping it face down once can break the triggers, which aren't cheap to replace. Other buyers have reported that the controller can feel quite stiff in places and will take some time to "break-in" so it feels comfortable. The micro-USB port is also susceptible to breaking, which makes it difficult to charge.
Best convenient
The ORDA PS4 Controller is a wireless remote for the PlayStation 4 gaming console that also features compatibility with desktop computers and laptops.
Pros:
Compatible with all versions of the PlayStation 4 console, including Pro and Slim. The controller can also connect to computers. There are built-in motion motors for games that have support for these functions. The controller also comes with audio functionality built-in, something that lacks in many competitor PS4 remotes. You can choose between four different color varieties. A Mini LED indicator is also built into the controller.
Cons:
Some gamers may find that the controller is not as comfortable in their hands as the original PS4 remote control. The lack of button printouts might also be an inconvenience for some gamers. Some games do not fully recognize the functionality of the touchpad integrated into this controller.
Best for 2D games
The HORI Fighting Commander is the perfect arcade-style PS4 controller for fans of classic 2D fighting games. The best part is that you can get it for less than the DualShock 4 controller.
Pros:
Although most PS4 gamers will prefer a variation of the DualShock 4, the HORI Fighting Commander will be a hit in niche markets. It is officially licensed by Sony and is specifically designed for fighting games harking back to the 2D era. It has six different buttons, an R/L toggle switch, Turbo functions, and a D-pad. It's smaller and lighter than the DualShock 4 without affecting gameplay. Given that it caters to older games, it's a nice bonus that you can use it with your PS3 and your PC as well, should you wish to play some throwback classics. The HORI Fighting Commander is a reliable option for gamers who don't follow the trends.
Cons:
Power-users have complained that repeated use can affect the durability of the controller. It shouldn't be an issue for regular users, however. The triggers can also sound a bit clicky and can hurt the fingers during extended gameplay due to their stiffness. Some buyers have also reported that the controller spontaneously disconnects from the console. That's a big issue for gamers who enjoy online sessions where disconnecting is very impractical.
Best wired PS4 controller
The Lilyhood PS4 Wired Controller for Playstation 4 gives you a remote control that is more affordable than the original, while still featuring all the necessary buttons and functions.

Best wired PS4 controller
Pros:
A more affordable option for adding another controller to your Playstation 4. It comes with the original Dual Shock 4 technology. Built-in tilt angle function and ability to capture three-axis acceleration, which is required by some games. The controller has a three-axis gyroscope built-in as well. Dual-point sensing touchpad that is built into the front of the remote.
Cons:
Wired remote means you need to sit close to the Playstation 4 console when playing games. The central button does not feature touch sensitivity. The responsiveness of the controller may not be as accurate and fast as the original PS4 remote control.
What to Look for In A PS4 Controller
Casual gamers may not even know that there are alternatives to the standard DualShock 4 controller by Sony. But there are not only two other official versions (Slim and Pro) but also third-party controllers that have been licensed by Sony. These come with extra features, such as programmable buttons. Finally, there are also modded and the chipped controllers available.
Wired vs. Wireless
One of the main things to consider when you buy a PS4 controller is whether you need a wireless version or not. The official DualShock 4 from Sony enables you to connect to your console via USB cable and wirelessly via Bluetooth. But that doesn't mean you should dismiss wired connections. That's because the wireless Bluetooth connection can cause latency, which can severely hamper the performance of hardcore gamers. If you're into multiplayer contests, then you will probably want a wired connection. If you're a casual gamer, then wireless will be more comfortable.
Regular vs. Pro
The regular DualShock 4 offers you a lot of control, versatility, and freedom. But the pro variants of the PS4 controller come with even more bells and whistles. Many of them are more durable, so that they can last through countless hours worth of gaming sessions. They can often be customized, both in terms of design and functionality. That also contributes to their longevity, because pro controllers can be refurbished when specific parts give out. Some of the controllers have programmable buttons that give you more in-game options. Aim for controllers like Razer's Raiju and Nacon's Revolution Pro that have been licensed by Sony.
Chipped vs. Modded
If you're a PS4 expert and want more out of your controller than the DualShock 4 and officially licensed alternative offer, then you can get chipped and modded controllers. These controllers have features that allow you to artificially boost your reaction time by automatically pressing a button repeatedly. Features like that are the reason why modded, and chipped controller is banned from many online multiplayer games, as well as from professional eSports tournaments. It's also worth noting that not all third-party controllers, much less the chipped and modded ones, are compatible with all games.
What Are the Latest PS4 Controller Trends?
Since Sony creates most PS4 Controllers, it is very limited to how quickly the trends change. The controllers are usually updated when a new generation of the console is released. To compensate for that, Sony has licensed the right to manufacture third-party controllers that have features not found on the original version. Among these are the Nacon Revolution Unlimited Pro Controller, the SCUF Vantage Controller, and the Razer Raiju Ultimate Wireless PS4 Controller. They each have distinct features, such as ergonomic design, customization options, audio touchpads, and mechanical buttons.
PS4 Controller Prices
There are many discrepancies in price when it comes to PS4 controllers. The most expensive pro controllers cost around ten times as much as the cheapest model on the market.
Expensive
Pro controllers from Sony-licensed manufacturers can cost anywhere between $100-$200 and will give you many more options than the original DualShock 4 controller.
Mid-Range
Sony's original DualShock 4 controller costs around $50 and will provide you with the full experience of the PlayStation 4. It's compatible with all the games and has everything you need.
Cheap
It's possible to get imitations of the DualShock 4 for less than half the price of the original. Just beware that there's a reason it's cheaper, which usually means it won't last as long.
FAQ
Below you'll find some of the most common questions people ask about PS4 controllers. We've found the answers to help you navigate the jungle of offers on the web.
Q: What are PS4 controller skins?
A: Skins are covers for your PS4 controller that can change its aesthetics. Most skins have a unique design. Many of them also provide a better grip. Finally, they also offer an extra layer of protection for your controller.
Q: Do PS4 controllers work with other devices?
A: Yes! You can hook up your PS4 controller to any device that has a Bluetooth connection. That means you can use it with your PC, Mac, iPhone, iPad, and Android devices. Third-party controllers may not offer this feature.
Q: Where to customize your PS4 controller?
A: There are numerous online tutorials on how to customize your PS4 controller at home. You can also pay a professional to do it for you. That said, we'd advise against doing so, as it could damage your PS4 controller if not done properly, and void the warranty either way.